AFC Cup: Bengaluru FC pip TC Sports Club of Maldives 3-2 in a thrilling play-off encounter
Male: Bengaluru FC on Tuesday pipped TC Sports Club Maldives 3-2 in a thrilling away play-off encounter of the AFC Cup football tournament.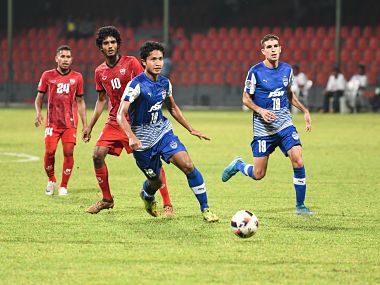 A second half watched five goals including a brace out of BFC's Semboi Haokip. Picture Thumbnails: Twitter @BengaluruFC
The club came up trumps in a match that observed five second-half strikes after a first 45 minutes.
Semboi Haokip struck at the 78th and 52nd minute while defender Erik Paartalu scored one from the minute during traffic' campaign.
Winger Toni was in his element as he led with perfect that Semboi and Erik led home.
But the home team restored parity within a space of two minutes with attack.
For Anatoli, Mahudhee supplied a help at the 71st minute to slot house and also proceedings were levelled by the former inside a few minutes.
Released Date: Feb 14, 2018 00:13 AM | Updated Date: Feb 14, 2018 00:13 AM
Additionally See
Cricket Scores
India in South Africa, 6 ODI Series, 2018

Zimbabwe and Afghanistan at UAE, 5 ODI Series, 2018

2018, Trans-Tasman T20I Tri-Series

Zimbabwe and Afghanistan at UAE, 5 ODI Series, 2018

India in South Africa, 6 ODI Series, 2018

2018, Trans-Tasman T20I Tri-Series

Zimbabwe and Afghanistan at UAE, 5 ODI Series, 2018

Sri Lanka in Bangladesh, 2 Test Series, 2018

India in South Africa, 6 ODI Series, 2018

2018, Trans-Tasman T20I Tri-Series
BAN vs SL – Feb 15th, 2018

NZ vs AUS – Feb 16th, 2018, 11:30 AM IST

AFG vs ZIM – Feb 16th, 2018, 04:00 PM IST

SA vs IND – Feb 16th, 2018

NZ vs ENG – 11:30 AM IST, Feb 18th, 2018

BAN vs SL – Feb 18th, 2018

SA vs IND – Feb 18th, 2018

AFG vs ZIM – 04:00 PM IST, Feb 19th, 2018

AUS vs TBC – 11:30 AM IST, Feb 21st, 2018

SA vs IND – 09:30 PM IST, Feb 21st, 2018